About Us
This website is long overdue!
Too often we hear the words "I did not know it was on".
Eventz has been created to help co-ordinate all New Zealand motorsport with the aim of allowing clubs, tourists and locals to access what is on, any where in New Zealand, at any time.
Our simple mission
To co-ordinate & provide access to all New Zealand motorsport events, both annual and bi-annual, online
To store and provide access to all New Zealand motorsport clubs contact details, online
This site is dedicated to Thomas Lawson (American Hot Rodder)
Creator, Carl Newman, having been involved with a Hot Rod club in Christchurch, New Zealand, had witnessed too often that clubs would double book events, even in the same city, as there was know way of being able to see what was on. Having restored a car for many years Carl also became aware of how difficult it can be to try and track down car clubs, especially if they were in another city or country. So to all motorsport clubs, we trust you will find great use from our user friendly site, designed for clubs to easily access and update details (for example, events, meetings, BBQs, etc.), making this a user friendly site for the up to date sharing of information to your audience. The man in London can contact the Vauxhall Club in Christchurch, or the swamp buggy racing team from USA can contact our NZ army for parts!
As part of our ongoing dedication to this venture, we welcome your suggestions, so please do not hesitate to contact us at any stage.
The Idea
"It was 1999 in Westport on the West Coast of New Zealand, celebrating my son's fifth brithday, where I meet Thomas and Elsie Lawson. I was driving my 1936 Chrysler hot rod and Tommy & Elsie waved me down in the street. Upon meeting Tommy I noticed and commented, that I liked his Daytona Hotrod T shirt. I also invited them to join us at my son's party.

Thomas is a semi-retired hot-rodder, and they informed me that they had travelled all over Australia and New Zealand and that my Hotrod was the only classic vehicle they had seen. What a comment! However, this comment began to annoy me. Did they think New Zealand did not have any cool cars?
I thought often about this and something needed to be done!
Tommy and Elsie stayed for about an hour and while they were leaving I mentioned that my father may be painting a bridge half hour up the road and to give him a toot. They actually stopped and introduced themselves to my dad and then Tommy removed the T-shirt of his back and asked my father to give it to me.
Dad however decided that the size of the beer belly shaped t-shirt better suited him, and so I let him have it!
I have dedicated the Eventz venture to My Hot-rodder friend Tommy, who removed the shirt of his own back for a stranger, and to his wife Elsie.
May the next time you come to paradise down under it be petrol heaven.
Reflecting on Tommy's comment that my Hotrod was the only classic vehicle they had seen, it annoyed me that the couple had travelled so far and had no way of knowing where they could find more!

Didn't New Zealand hold an event at least every weekend of the year where they could marvel these great machines? Why didn't they know about this?"
Back then I day dreamed about an events calendar for hotrods and drags, but over the years of thinking more about it and discussing it in depth with close friends in the motorsport trade coupled with the introduction of the world wide web, this idea has evolved into a website to document all NZ motorsport and club information.
We hope you will find our website user-friendly, accessible and FREE to advertise on!
Tourists like Tommy and the New Zealand public can access this information from any where in the world and therefore better plan and book these tours and their holidays. This also allows for a lot more nation wide tours and co-ordinated events (eg. Nationwide Harley Tours. In January 2009, Fifty Hotrods travelled from Auckland to Rangiora, Christchurch). There are so many events around that information sharing on one common website makes a lot of sense to allow better planning and therefore advertising and attendance.
As this site will be free for clubs to list contact details and free to list events, we therefore seek sponsors to make it all happen. I look forward to your support and of course sponsors and suggestions are always welcome.
Yours in Motorsport
Carl Newman
---
Thomas Lawson Biography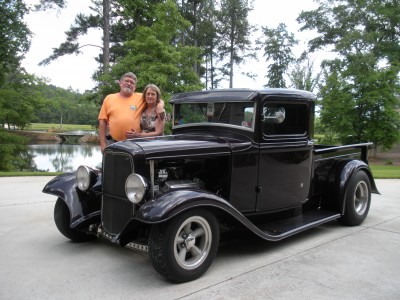 Age: 66 years old
Lives: Lithonia, Georgia (20 miles east of Atlanta)
How I became a Hotrodder: My Dad raced dirt track while I was growing up. My first car was a '40 Ford coupe with a '49 Oldsmobile engine. I joined the Army as a teenager and served in France 1960-64. In France, I had a '50 Ford Coupe that was red with silver scallops (one of a kind for Europe). When the flat head died, I installed a '56 Ford Y block. That was a difficult task to accomplish at a military base, in France, in the early '60s but i succeeded!My 33 working years were spent traveling across America in the cab of an 18 wheeler. Even though I always owned a hot rod, I was never able to truly enjoy my hobby until I retired in 1998.
Currently: I am now a Safety Inspector for the National Street Rod Association (NSRA), on the board of Directors for the Georgia Street Rod Association (GSRA) and with the help of my wife Elsie, manage the Advertising for the GSRA Newsletter.
I met Carl Newman in New Zealand in 1999, where I gave him, the 'shirt off my back.